Landscape maintenance is a crucial aspect of keeping your outdoor space looking its best. Whether you have a small backyard or sprawling estate, proper maintenance is key to ensuring your landscape stays healthy and beautiful. But where do you start? Have you been wondering if there are any local landscapers near me? The answer is Yes! In this comprehensive guide, we'll take you through the essential steps of landscape maintenance, from planning to execution. Tired of landscape maintenance? Let us explain our affordable landscape maintenance services that will keep your outdoor space looking its best  So give HR Rogers Inc a call today! Choose HR Rogers Inc, Click To Call Now!
The Importance of Landscape Maintenance
A well-maintained landscape can add value to your home and enhance your outdoor living experience. From lawn care to pruning and planting, a little bit of effort goes a long way in keeping your landscape looking its best. But there's more to it than just aesthetics. Regular yard maintenance service performed by HR Rogers Inc also helps prevent potential problems such as pest infestations, soil erosion, and damage from severe weather.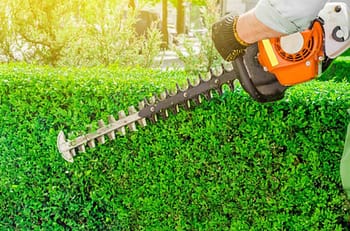 Planning Your Landscape Maintenance
Before you begin any maintenance work, it's important to have a plan in place. This will help ensure that you prioritize tasks and stay within your budget. HR Rogers Inc will assist you in creating a custom plan. Here are some key factors to consider when planning your landscape maintenance:
Climate: What kind of climate do you live in and how does it affect your landscape? Consider factors such as rainfall, temperature, and seasonal changes when planning your maintenance schedule.
Soil type: Knowing the type of soil in your landscape is essential for choosing the right plants and fertilizers.
Sun exposure: Different plants have different sun exposure requirements, so make sure you choose the right plants for the right spots in your landscape.
Maintenance schedule: Decide on a maintenance schedule that works for you and your landscape. Some tasks, like mowing the lawn, may need to be done weekly, while others, like pruning shrubs, can be done less frequently.

We are considered the best landscapers near me
Seasonal Lawn Care Tips
Fall and Spring (Bethany Beach, DE): As the seasons change, prepare your lawn in Bethany Beach for new growth. Start by aerating the soil to allow essential nutrients to penetrate. Seeding and fertilizing are crucial steps to ensure a green, thriving lawn.
Summer (Rehoboth Beach, DE): Summers in Rehoboth Beach call for regular mowing, but don't cut too short. Keep your lawn around 2.5 to 3 inches high to shade the soil and conserve moisture. Regular watering is essential to counter the summer heat.
Landscape Maintenance Services
Now that you have a plan in place, it's time to start thinking about the specific tasks that need to be done to maintain your landscape. We provide commercial and residential affordable landscape maintenance services in Bethany Beach, Bridgeville, Georgetown, Laurel, Lewes, Millsboro, Milton, Ocean View, Rehoboth Beach and the surrounding Sussex County De. area. Here are some of the most common landscape maintenance services that you can trust HR Rogers Irrigation and Landscaping to take care of. So give HR Rogers Inc a call today! Choose HR Rogers Inc, Click To Call Now!
Spring Lawn Care: Spring raking removes lingering fall leaves and grass blades that did not survive winter. Overseed. Fill bare or thin spots in the lawn by overseeding. Aerate. Vital for a truly healthy lawn, aeration is the solution for compacted soil.
Mowing: Keeping your lawn mowed is essential for maintaining its health and appearance. Aim to have your lawn mowed at least once a week during the growing season.

We have been voted one of the best landscapers near me

Watering: Regular watering is key to keeping your plants healthy. Make sure you water your landscape at the right time of day and for the right amount of time. Consider a sprinkler system installation 
Pruning: Regular pruning is essential for maintaining the health and appearance of your plants. Pruning helps control the size and shape of your plants, removes dead or damaged growth, and promotes healthy new growth.
Fertilizing: Fertilizing your landscape is important for maintaining soil health and plant growth. Choose the right fertilizer for your soil type and climate, and apply it at the right time of day. 

Consider installing a landscape drip irrigation system

Weeding: Regular weeding is essential for preventing unwanted plants from taking over your landscape.
Pest control: Regular pest control is essential for preventing damage to your plants and keeping your landscape healthy.
So hopefully we have answered the question "Is there a affordable, quality, trustworthy and local commercial landscapers near me"? Let us help you, Choose HR Rogers Inc, Click To Call Now!
HR Rogers Irrigation and Landscaping is a local residential and commercial landscape maintenance company
best landscapers near me